Steroscopic Zoom Binocular Microscope (Acm-22305-J)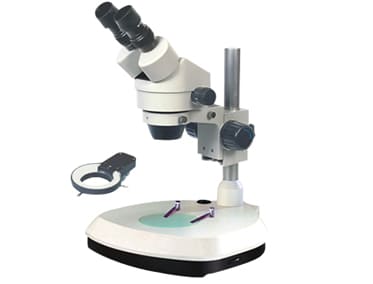 Stereoscopic Zoom Binocular Microscope offers high point, lockable eyepieces and ergonomically located zoom control. Application areas include industrial and medical, Pathology and forensic applications. We have retained the core quality and technology while improving the ergonomics, optics, and performance. Stereoscopic Zoom Binocular Microscope is our most popular binocular microscope with high performance and durability that has been proven and time tested. It is made with the most advanced body construction and technology with a single spindle zoom, modularized gears, and fixed prisms. Stereoscopic Microscopes are specifically designed to meet modern microscopy application.
The microscope comes with versatile illumination system that provides both incident (top) lighting and transmitted (bottom) illumination. This microscope offers crystal clear sharp stereo images, large zoom magnification range and large working distance. Its 45° inclined binocular head ensures an easy observation and rubber eyeguards provide further comfort. This microscope is great for the exploration of the world of surface details and fine structures of various materials like wood, metal, solder, semiconductor and gemstone. It is perfect for the examination of insects, plants, rocks, stamps, jewel, soldered points, microelectronic components, circuit boards or virtually any three dimensional objects.
Stereoscopic Zoom Binocular Microsope l