Monocular Microscope (Acm-22301-J)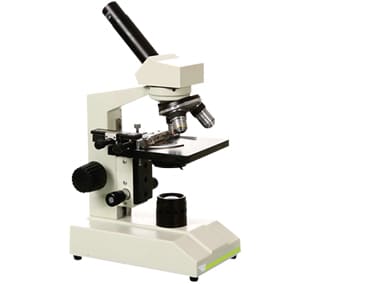 Microscopes are primarily employed to produce enlarged images of small object. Monocular Microscope consists of only one lens. Weiber designed monocular microscopes are built from high quality materials producing high quality enlarged image offering higher degree of resolution. The monocular microscope offer wider application in R & D sectors including labs, institutes and other research organizations.
Weiber manufactured Monocular microscope is superior in design and performance, providing superb optical clarity and precise, reliable operation. Quality Standard Monocular Microscope is an extremely versatile instrument with excellent LED illumination along with wide field eyepiece giving a higher magnification range. Microscope is equipped with higher achromatic objective lens, white fluorescent illumination system, high quality LED illuminator with advanced technology and ergonomic design.
The Custom made Microscope offer wider application in biology, biotechnology, microbiology, biochemistry, zoology and other life science laboratory applications. The scientific equipment is primarily used in middle and high school institutions. Monocular microscope has durable metal construction, designed to handle years of daily use by younger biologists. All Weiber microscopes are internationally recognized and completely factory tested.