Modular Clean Rooms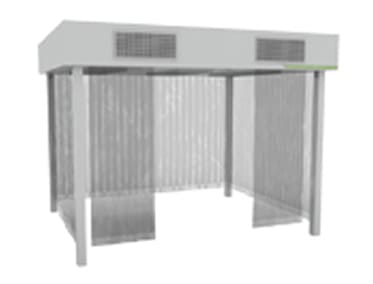 Weiber Portable Modular Clean Room Enclosures (Model WCX-44509-T):
Weiber Modular Clean Room/Portable Clean Rooms are a free standing, rigid wall, modular, prefabricated cleanroom system that is designed to provide superior cleanroom performance and esthetic appeal. Its modular, prefabricated design combines functionality with flexibility to create systems that will meet your cleanroom needs of today and into the future.
These Portable Clean Rooms are available from Class 100,000 to Class 10. These Modular Clean Rooms are available with open free spans from 6 to 34 feet and interior room heights of 8 to 14 feet. Multiple rooms can be combined to form larger cleanroom systems. The system allows for additional sections to be added to existing rooms to expand the cleanroom at a future date.
Weiber's Portable Clean Rooms have high visual appeal and is often used as a showcase cleanroom system. The large clear walls offer good visibility in to and out of the room. Clear anodized aluminum panels cover the filter, light area above the drop ceiling so the exterior has a clean appearance.
The rigid wall design allows the clean room to operate at higher internal pressures than may be found in other types of cleanroom systems. This pressure is adjusted through variable wall dampers that regulate the flow of air out of the room that controls the internal room pressure