Seed Germinators Chamber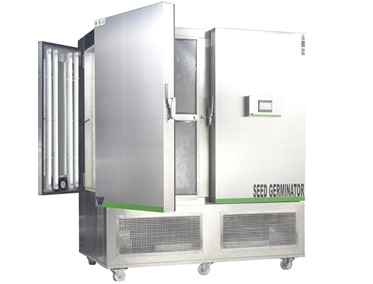 We are manufacturers of seed germinators in India since more than two decades. Our equipments are conceptualized and designed to conduct various experiments on the germination of seeds in different controlled environmental conditions. All the crucial environmental parameters such as temperature, humidity and illumination are precisely controlled in our seed germinators by means of a advanced micro-processor based technology thus creating a nearly perfect and accurate environmental conditions for any given germination study, which yields highly accurate data. This data translates into excellent and accurate findings in any given research studiy. Beside the research based seed germinator, we are also manufacturing very economical commercial grade seed germinators, which are commonly used as sprouters in various agro-based industries and tissue culture industries.
The basic mechanism of these type of seed germinators are very similar to the basic research based models of seed germinators, but the only difference being the control modules. The control modules of commercial seed germinators are electronic solid state based instead of sophisticated micro-processor based thus making them commercially viable and fit for rugged handling in production floors.
Beside the normal germination applications our seed germinators are fit to be used for various applications tests involving micro-organisms, plants, tissues, electronic components etc apart from various customized industrial and research applications.
Our seed germinator have a variety of usage in R & D laboratories, research studies and product testing facilities across the globe.
Apart from that, these seed germinator have a variety of usages in tissue culture applications, enzyme reaction studies, growth observation studies, fermentation analysis and various other general and specialized applications in various laboratories.
We specialize in both standard and customized models, specifically designed to meet the challenging demands of various scientists for individual and specialized research applications. Over a short period of time Weiber brand have been established as reliable exporters of seed germinator in India, catering to the vast markets in South East Asia, Middle East, Africa and Europe.
Apart from that we are supplying our seed germinator in India, catering to a variety of customers ranging from Defence Installations, Research Laboratories, Educational Institutes and various R& D laboratories of leading national and multinational companies.