Freeze Driers (Lyophilizer) (Acm-78097 S)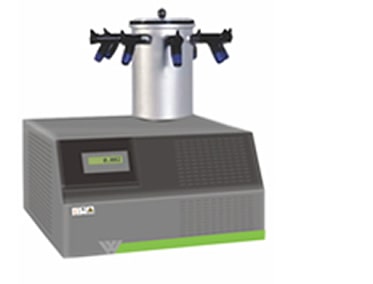 We are manufacturers of freeze driers/lyophilizers in India since more than two decades. Our equipments are conceptualized and designed to provide moisture removing solutions to all the microbiology, biochemistry , biotechnology and genetic engineering laboratories which require complete moisture removal and storage facilities of various biological agents/material. Our freeze drier removes moisture from all the biological samples while ensuring that the structural integrity along with the biological and chemical activities are preserved.
Beside the normal drying applications our freeze driers are fit to be used for various applications tests involving micro-organisms, plants, tissues etc apart from various customized industrial and research applications.
Our freeze drier have a variety of usage in R & D laboratories, research studies and product testing facilities across the globe.
Apart from that, these freeze drier have a variety of usages in tissue culture applications, enzyme reaction studies, growth observation studies, fermentation analysis and various other general and specialized applications in various laboratories.
We specialize in both standard and customized models, specifically designed to meet the challenging demands of various scientists for individual and specialized research applications. Over a short period of time Weiber brand have been established as reliable exporters of freeze drier in India, catering to the vast markets in South East Asia, Middle East, Africa and Europe.
Apart from that we are supplying our freeze drier in India, catering to a variety of customers ranging from Defence Installations, Research Laboratories, Educational Institutes and various R& D laboratories of leading national and multinational companies.
Freeze Drier lyophilizer l