Weiber Lyophilizer (Freeze Dryer) Acm – 78097 S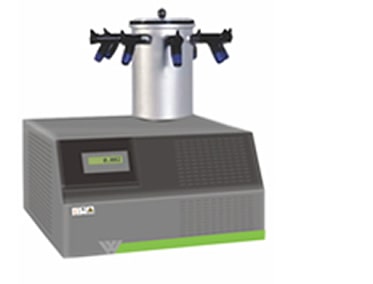 Freeze Drying is the process of removing the moisture from a biological product while maintaining the Integrity of the products biological & chemical structure and activities. Freeze drying technology is used in particular for removal of moisture from the products usually of biological origin without causing any noticeable change in the original characteristics. Freeze Drying is also the preferred process in the field of Pharmacy, Chemistry and in conservation of food. Heat-sensitive biological materials may be freeze-dried without affecting their potency. The dried materials may be stored for years at room temperature without loss of their original characteristics. The freeze-dried material may be transported and shipped in small containers, and no provision is necessary for refrigeration en route.
Beside the normal drying applications our freeze driers are fit to be used for various applications tests involving micro-organisms, plants, tissues etc apart from various customized industrial and research applications.
Bacterial growth and enzyme action do not take place in freeze-dried products. Proteins do not coagulate. Oxidation of many materials such as hemoglobin's and vaccines is completely prevented when drying and sealing is done under high vacuum.
Freeze Dryer Covers a range of application from multi-user centralized laboratory application, pilot plant determination works etc. This unit is mounted on castors. The unit has hermetically sealed one compressor maintains temperature up to minus 70°C. Trap is given at non magnetic stainless steel dished bottom for complete effluent removal. Refrigerant Coils made of Copper are heavily insulated for maximum efficiency in the condensing chamber. Temperature controller cum indicator Vacuum drum is made of non magnetic Stainless steel with Perspex top cover and incorporates 8/12" Quick seal valves/ports for manifold drying. Double stage Vacuum pumps with gas ballast giving vacuum 1 X 10-3 torr module gauge sample port having 12.5mm outer dia provided for Quick drying however, moisture contains would be around 5% in the specimen.
Electronic Vacuum indicator Pirani gauge is used. Specially designed temperature indicator to read temperature as low as 70°C, mounted on front panel. Suitable work on 220V single phase. 50HZ A.C.
Freeze Drier lyophilizer l